Meet. Compete. Drink. Eat. Boules is cool. Want Pétanque!
The Atlanta Pétanque League provides a fun social space that brings people of all ages together in this often fun, frequently frustrating, always challenging French game to meet or compete…and drink and eat!
Atlanta Pétanque League will be there !!!

The largest Pétanque event in the Americas !

the Pétanque Amelia Island Open welcomes players from around the world to the enchanted Florida island where play unfolds alongside a harborfront and historic district that beckon with sunshine, shops and restaurants, and a true feeling of joie de vivre – not unlike the French Mediterranean coast, where the sport began.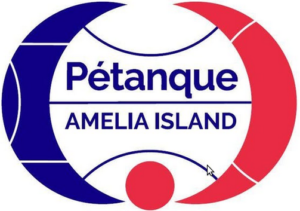 Amelia Tips
League T-shirts – please wear them especially on Saturday so we can have a group picture maybe at lunch
Please bring your confirmation # and use the QR code for quick check in.
The big, fun, annual event for players and family and friends there to visit, have fun and support! Weather looks good.
Friday at Main courts after lunch there are $25 clinics, Main courts by big tent has chairs, but having your own can also help as you move around the different courts to watch players.
We have few APL tee shirts for sale at $18.00 each
Bring chairs/blankets for Saturday 7pm party at Beachside Motel – might be some wind coming off the beach.
You should have got an email from Shannon ref pot luck items to bring. Please fill in your choices in the App.
Players – when you know which court you compete on, please whatsapp to group and/or tell Atlanta supporters so they can come watch
Local restaurants – Timoti's, Sabbia, Café Karibo, North 3rd St (quick eats), Espana and more
the Amelia Pétanque schedule & rules are available here, please read them.
If you plan to party on the beach use only plastic containers. No glass bottles/containers permitted. Beach Patrolled.
Read the newsletter sent last week