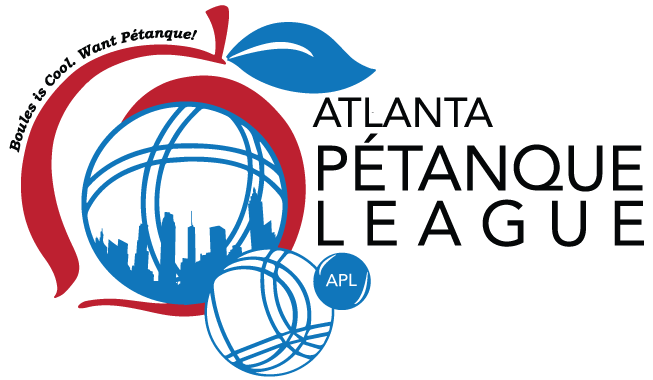 Bonjour Fellow Pétanquers!
Some of you already know that Luc & Danielle have opened a dedicated Pétanque court behind their French Bakery in Marietta.
Our third Club, Marietta Pétanque Club will have dedicated hours every Saturdays 2-5pm.
It is open to the public so go Meet. Compete. Drink. Eat. there whenever you can.
Meet. Compete. Drink. Eat. Boules is cool. Want Pétanque!
The Atlanta Pétanque League provides a fun social space that brings people of
all ages together in this often fun, frequently frustrating, always challenging French game to meet or compete…and drink and eat!
Amelia Tips
League T-shirts - please wear them especially on Saturday so we can have a group picture maybe at lunch
Please bring your confirmation # and use the QR code for quick check in.
The big, fun, annual event for players and family and friends there to visit, have fun and support! Weather looks good.
Friday at Main courts after lunch there are $25 clinics, Main courts by big tent has chairs, but having your own can also help as you move around the different courts to watch players.
We have few APL tee shirts for sale at $18.00 each
Bring chairs/blankets for Saturday 7pm party at Beachside Motel - might be some wind coming off the beach.
You should have got an email from Shannon ref pot luck items to bring. Please fill in your choices in the App.
Players - when you know which court you compete on, please whatsapp to group and/or tell Atlanta supporters so they can come watch
Local restaurants - Timoti's, Sabbia, Café Karibo, North 3rd St (quick eats), Espana and more
Last Sunday Peter gave you the Pétanque rules, please read them, at least where it say Amelia Island Variation.
If you plan to party on the beach use only plastic containers. No glass bottles/containers permitted. Beach Patrolled.
Amelia outline
Thursday
5.30pm to 7.30pm Social at Jim Askren's - cocktails and hors d'oeuvre's (map link)
Friday
All courts are open for practice. Ask for Juan Garcia's group - he put on FB that there will be friendly games at North courts or Main courts
2pm Clinic - may be sold out already, but check if interested. $25
Players can check in Friday (I think after lunch) to avoid the longer wait on Saturday a.m. - bring your confirmation # and ticket
Dinner - Last year they served a buffet dinner in big tent by main court - it was included in ticket price. I have not heard anything different for this year.
Saturday
8am or so is best time to arrive to find parking and practice before games. All games and names will be posted on one board along with court # you play on.
Lunch break - really good food vendors on site at main courts by tent.
Wear APL T-shirts please to showcase the Atlanta Teams and for group pictures to promote league growth in Atlanta

6pm - volunteers help set-up tables etc, for pot luck
7pm - pot luck PARTY at Beachside Motel
Sunday
8am or so is best time to arrive to find parking and practice before games.
Closing ceremony/awards and party that night!
A good time is guaranteed. Fun weekend ahead. See you all in Amelia
Members who are not going - we look forward to seeing you at the Nov 17th game in Roswell to share all the wins and stories!
BTW - YES! APL is an ALL YEAR League. Atlanta winters can often be mild, so plan to play! IF weather is bad we can go Drink. Eat.

P.S. APL $70.00 dues will be due for 2019 by Jan 31st. Thank you for your continued support of the league. Next year APL will have even more to offer you!

Another HUGE thanks to Tricia & Emmanuel Domingo, Catherine Thille and Nathalie Helin our non-profit Board Members who do a lot behind the scenes.

Make a note: Dec 15th 10am game in Roswell then a lunch Christmas Party!

Peter Gibson

Founder Atlanta Pétanque League