Atlanta Pétanque League. Boules is cool. Want Pétanque!

Meet. Compete. Drink. Eat.
Membership Type
Cost
Individual
Click Here to download the membership & waiver Form (pdf)
$70.00 a year (Renew by Jan 31)
1st 3 visits within 45 days free,
then join or 'Pay to Play' is $10.00 per visit.
Student Fee
Student (under 21) $25.00 a year
Sponsorships
Contact us
Benefits of the Atlanta Petanque League (APL) membership:
The APL will market and promote, with the support of its sponsors and members, APL member clubs. All ages and skill levels can join for the fun of the game – to meet others, and to enjoy the sport and compete.
The APL will promote the growth of the sport, via inter-club league practices, games, competitions, tournaments, and social events.
The APL will promote the culture and origins of pétanque, its reputation, member skills, all-inclusive conduct, sportsmanship and behavior.
The APL will always encourage free instruction, while also offering fee-based coaching clinics that are not included in their membership.
The APL creates opportunities for a community to connect, have fun, discover Pétanque, help expand the presence of the game in Atlanta and help team members prepare to compete in Atlanta area tournaments and the annual November Pétanque Amelia Island Open.
Your APL membership includes a membership card of the Federation of Pétanque, USA. To process this FPUSA membership, members must submit name, address, phone number, email a headshot (without hat or glasses) and a signed waiver. The FPUSA will provide an accident waiver and release of liability to protect participants and club office bearers against claims from club events. Pétanque is not viewed as a dangerous sport, but accidents can happen.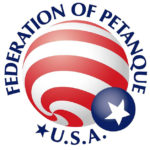 Federation of Pétanque – USA
The FEDERATION OF PETANQUE U.S.A., Inc. is a non-profit organization which has as its primary objective the promotion of the sport of Pétanque in America. It is a U.S. National Organization member of the International Federation of Pétanque and Jeu Provençal (FIPJP). The Federation acts as a liaison between all pétanque players and all pétanque clubs in the U.S.A. and throughout the world.
For more information on the Federation of Pétanque Upcoming FPUSA Tournaments or Other Tournaments
The APL will provide advice and support to anyone wanting to start a new APL member club in the Atlanta area.
The APL will co-ordinate and supervise start-up and coaching opportunities to new and current clubs, to both coach APL members and recruit APL club coaches and leaders. When practical, it will schedule experienced members to meet with potential APL members eager to start a club.
The APL website will provide resources for equipment, merchandise, education, coaching and instruction and advice of interest to current and future APL members. It will also be a platform for members and clubs to publicize their game and social activities and recognize their sponsors.
Annual Membership fees will be payable to the Atlanta Petanque League. Dues are payable annually by January 31st. If paid after October 31st they are applied to the following year.
Pay to play players, unable to commit to the schedule, or location, of a specific club, or unable to commit to the annual APL fee, will pay APL a $10.00 per event, pay to play fee. Other players, who are not APL members, who want to participate in any APL challenge, competition, tournament or related events will pay a per event fee which may vary per event.
Atlanta Pétanque League. Boules is cool. Want Petanque!
Meet. Compete. Drink. Eat.